I never want to hear another family say "I wish I hadn't waited too long."
I am a storyteller. Or more accurately, a story listener. I never aspired to be a business owner, or create an app, but I was drawn down that path because I fell in love with hearing people's stories, and the way the telling made them feel.
After years of writing, producing and directing videos for non-profits and businesses, I had an aha moment I couldn't ignore. My friend Sue's dad was given six months to live. Instinct (and permission from the family) brought me to their house with my video gear, and a memorable afternoon of family stories and their signature laughter was documented.
What an amazing way to have my professional skills matter on such a personal level! So I continued, and started Sunrise Sunset Documentaries, guiding people's life stories from their beginnings to the later years, and crafting them into real documentaries. Even my stepdad, who never put much stock in reminiscing, unfolded in front of the camera. "I never thought it would be so much fun to talk about my life."
But there were painful failures….the owner of my favorite childhood deli who passed away before we could fit the interviews into his dialysis schedule, others who couldn't afford video production costs, and then my friend Sue was diagnosed with cancer, and the storytelling would have been too difficult to share with me in that setting. Too many stories lost to time. When she died in 2013, and I knew that the stories we had captured that afternoon with her then-sick father, her mother and brother would be something her children would always have and share with their kids, it became clear that this was my mission and my heart.
     The idea began to brew for a way to make the video capture process self-guided, or captured by a trusted person, so someone could share their thoughts privately, for a future they might not be part of, or just wanted to share with family near and far.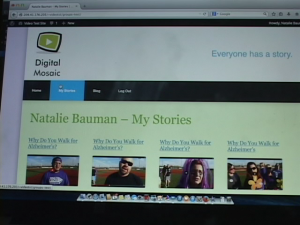 My new service had to be affordable and inspiring – I had to provide insightful questions from my video and creative expertise that people wouldn't get to on their own. And uploading and storing video? Even as a professional, I was frustrated by file sizes and formats, remembering where the files were & of course figuring out where and how to upload & share them. The process had to be simple and easy-to-use.
     By 2014, technology evolved to a sweet spot that allowed my vision to become a reality. What an impact my kind of storytelling app could have – an app unlike existing ones that gathered audio narration about a picture, or a video storytelling app for families where clips could be sent via email or just posted on social media, or even StoryCorp, which I admire, but where stories were meant for a public audience. And like a proud mama, I finally can share with you what has become The Digital Mosaic. Come experience an online storytelling opportunity and be part of the evolution as we roll out new and exciting features. And we want to hear from you! You are the heart of what we are creating, and we want to know what services mean something to you!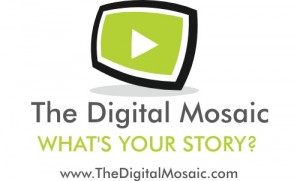 Everyone has a Story. Capture, Share and Preserve yours at The Digital Mosaic.